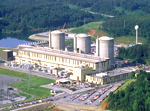 Region I Correspondence Regarding Generic Letter 2004-02 Prior to 2008
The following table contains Generic Letter 2004-02 initial licensee responses, staff requests for additional information, and other correspondence for Region I dated 2007 and earlier.
This page includes links to files in non-HTML format. See Plugins, Viewers, and Other Tools for more information.
* Licensee did not submit extension request letter for GL2004-02 corrective actions.

Page Last Reviewed/Updated Monday, May 22, 2017
Home
About Us
Popular Documents