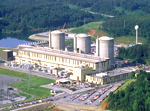 Region IV Generic Letter 2004-02 Plant-Specific Correspondence From 2008 and Later
The table contains Generic Letter 2004-02 license supplemental responses submitted in 2008 and later, staff requests for information and licensee responses, Temporary Instruction 2515/166 additional inspection reports and other related correspondence for licenses in Region IV.
This page includes links to files in non-HTML format. See Plugins, Viewers, and Other Tools for more information.
* Meetings after February 22, 2011, with South Texas Project on its risk-informed approach to resolving GSI-191 are listed on the webpage for PWR Sump Performance Public Meetings.

Page Last Reviewed/Updated Monday, May 22, 2017
Home
About Us
Popular Documents