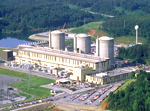 Boiling Water Reactors ECCS Strainer Performance Interactions and Documents – Historical
The extensive work performed since start time on PWRs to address GSI-191 has greatly enhanced the level of knowledge of various aspects of ECCS strainer performance. Boiling Water Reactor (BWR) strainer performance issues were evaluated in the mid 1990s after some incidents at foreign and domestic BWRs led to concerns about strainer performance. Evaluation of these issues led to enlargement of strainer size, and the NRC's conclusion almost a decade ago that the questions regarding BWR strainer performance had been resolved.
In 2007, the NRC did a preliminary area-by-area comparison of regulatory and technical treatment of BWRs vs. PWRs. The NRC's initial conclusion was that there were disparities in treatment, but there is not enough information to validate the issues or their significance. The NRC concluded additional evaluations were needed to determine the safety significance of these issues. The NRC's Office of Nuclear Regulatory Research and the BWR Owners Group have begun new work on BWR strainer performance.
The NRC and the BWR Owners Group have met on a number of occasions to discuss a path forward. The NRC staff has provided perspective to the Owners Group on some of the subject areas related to strainer performance based on lessons learned from evaluations of PWR Sump Performance.
On this page:
This page includes links to files in non-HTML format. See Plugins, Viewers, and Other Tools for more information.
Commission Papers (SECY)
| Date | SECY Number | Description |
| --- | --- | --- |
| 10/23/09 | SECY-09-0156 | Status Of Applying Lessons Learned From Pressurized Water Reactors To Emergency Core Cooling System Suction Strainer Performance For Boiling Water Reactors |

Technical Guidance
| Document Number | Description |
| --- | --- |
| NEDO-32686-A | Utility Resolution Guide for ECCS Suction Strainer Blockage, Volume 1. |
| NUREG/CR-6224 | Parametric Study of the Potential for BWR ECCS Strainer Blockage Due to LOCA Generated Debris |
| NUREG/CR-7011 | Evaluation of Treatment of Effects of Debris in Coolant on ECCS and CSS Performance in Pressurized Water Reactors and Boiling Water Reactors |

Correspondence
| Date | Description |
| --- | --- |
| 07/17/09 | Boiling Water Reactor Owners' Group - BWROG Plans for Addressing NRC Concerns Related to Emergency Core Cooling Systems (ECCS) Strainer Performance at Boiling Water Reactors. |
| 04/13/09 | Boiling Water Reactor Owners' Group, Potential Issues Related to Emergency Core Cooling Systems (ECCS) Strainer Performance at Boiling Water Reactors. |
| 04/10/08 | Potential Issues Related to Emergency Core Cooling Systems (ECCS) Strainer Performance at Boiling Water Reactors. |

Public Meetings
| Date | Description |
| --- | --- |
| 06/03/10 | Public Meeting with Boiling Water Reactor Owner's Group, to Discuss the to discuss the progress of and changes to the schedule of the BWROG program plan for the review of treatment of boiling water reactor (BWR) emergency core cooling system (ECCS) suction strainer issues |
| 01/14/10 | Public Meeting with Boiling Water Reactor Owner's Group, to Discuss the Review of In-Vessel Downstream Effects for Boiling Water Reactors |
| 10/21/09 | Public Meeting with Boiling Water Reactor Owners Group (BWROG) to Discuss the BWROG Review of In-Vessel Downstream Effects for Boiling Water Reactors (BWRs) **PORTION CLOSED** |
| 07/30/09 | Public Meeting with the Boiling Water Reactor Owners Group (BWROG) to Discuss the Results, Progress, and Schedule of the BWROG Program Plan for the Review of Treatment of Boiling Water Reactor Emergency Core Cooling. |
| 07/23/09 | Meeting with the Boiling Water Reactor Owners Group to Discuss the BWROG Review of In-vessel Downstream Effects for Boiling Water Reactors (BWRs). |
| 09/10/08 | Public Meeting with the Boiling Water Reactor Owners Group (BWROG) to Discuss the BWROG Program Plan for the Treatment of Emergency Core Cooling System (ECCS) Suction Strainer Technical Issues. |
| 06/05/08 | Meeting with Boiling Water Reactor Owners Group (BWROG) to Discuss the Treatment of Generic Safety Issue (GSI) 191 Technical Issues as Applied to BWR |
| 11/27/07 | Public Meeting with Boiling Water Reactor Owners Group (BWROG) to Discuss the Treatment of Generic Safety Issue (GSI)- 191 Technical Issues as Applied to BWRs |

Page Last Reviewed/Updated Tuesday, May 14, 2019
Home
About Us
Popular Documents