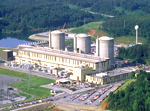 Overview of Fire-Induced Circuit Faults
This page includes links to files in non-HTML format. See Plugins, Viewers, and Other Tools for more information.
In response to the Browns Ferry fire, the U.S. Nuclear Regulatory Commission (NRC) created fire protection regulations and guidelines to ensure that nuclear power plants (NPPs) can be safely shut down in the event of a fire. An important requirement of these rules was to require the protection of redundant equipment and cables required to place the plant in a state of safe shutdown. This included a requirement to protect circuits from failure or maloperation.
Beginning in 1997, a series of licensee event reports (LERs) identified plant-specific problems related to potential fire-induced electrical circuit failures that could affect equipment necessary to achieve and maintain safe shutdown. The NRC staff issued Information Notice (IN) 99-17, "Problems Associated with Post-Fire Safe-Shutdown Circuit Analyses," on June 3, 1999, to document additional problems.
In 2001, the Electric Power Research Institute (EPRI) and Nuclear Energy Institute (NEI) performed a series of cable functionality fire tests to further the nuclear industry's understanding of fire-induced circuit failures, particularly spurious equipment actuations initiated by circuit failures.
Based on the test results and continued interactions with industry, the NRC staff concluded that clarification of regulatory expectations was needed to assure safety and provide clear regulatory expectations in the area of fire-induced circuit faults, and, where appropriate, to make plant changes to mitigate such faults. In December 2005, the NRC staff issued Regulatory Issue Summary (RIS) 2005-30, "Clarification of Post-Fire Safe-Shutdown Circuit Regulatory Requirements." RIS 2005-30 clarified regulatory requirements related to post-fire safe-shutdown circuit analyses and protection.
In April 2009, the NRC staff issued Regulatory Guide DG-1214, Proposed Revision 2 of Regulatory Guide (RG) 1.189, "Fire Protection for Nuclear Power Plants." DG-1214 expands the guidance contained in RG 1.189 to provide additional clarification of regulatory expectations with respect to nuclear power plants. Regulatory Guide 1.189, Revision 2, was published in November 2009. That guide includes guidance for analyzing and addressing fire-induced circuit failures. In accordance with Enforcement Guidance Memorandum 09-002, enforcement discretion for some circuit issues continues until November 2012, at which time licensees are expected to complete activities related to fire-induced circuit failures.
Page Last Reviewed/Updated Friday, April 15, 2016