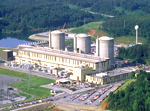 Quick Facts About Fire-Induced Circuit Faults
Fire-induced circuit faults are unintended starting, stopping, or erratic operation of plant equipment that occur as a result of fire damage of cables or other plant equipment.


Fire-induced circuit faults occurred during the Browns Ferry fire and have also been confirmed to occur through testing by industry and the U.S. Nuclear Regulatory Commission (NRC).


NRC regulations require that licensees protect plant equipment from fire-induced circuit faults that could affect equipment important to safety.


This protection may include fire barriers, fire detection and suppression systems, and spatial separation with no intervening combustibles for the equipment that is relied upon to make safe shutdown possible.


Licensees that cannot meet the requirements at their plants, but can demonstrate that they can ensure they are safe enough, may apply to the NRC for permission to deviate from regulatory requirements.
Page Last Reviewed/Updated Tuesday, April 30, 2013