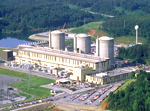 Incorporating Risk Management Technical Specifications
The use of risk information and technology has long been a fundamental ingredient in improving technical specifications. In the 1983 publication "Technical Specifications - Enhancing the Safety Impact" (NUREG-1024), the NRC Task Group on Technical Specifications commented on the technical specifications of the era:
"The Task Group recognizes that the times associated with surveillance frequencies, allowable outage times, etc., have been established on a deterministic basis using engineering judgement. The Task group also believes that engineering judgement must be the primary basis for any changes to the Technical Specifications. However, the Task Group believes that the use of insights from probabilistic risk assessments could be a significant aid in arriving at these judgements."
Technical Specifications have taken advantage of risk technology as experience and capability have increased. For more information, see our Risk Management Technical Specifications page.
Page Last Reviewed/Updated Monday, April 29, 2013
Home
About Us
Popular Documents
Stay Connected