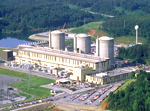 Topical and Technical Reports for the BWXT mPower™ Design
This page provides access to topical and technical reports submitted by BWX Technologies, Inc. (BWXT), subsidiary BWXT mPower, Inc. to the U.S. Nuclear Regulatory Commission (NRC) for review or consideration.
The topical reports submitted to the NRC will be reviewed and if approved, the NRC staff will develop a safety evaluation report of the topic detailed in the submitted report and related to the BWXT mPower™ reactor design. The purpose of the topical report is to allow for a single NRC review of a safety-related topic that may apply to multiple nuclear power plants.
The technical reports will be considered by the NRC staff while developing the Design-Specific Review Standard and the staff will provide feedback during meetings that discuss the details of the report. No safety evaluation report will be developed for the technical reports.
This page includes links to files in non-HTML format. See Plugins, Viewers, and Other Tools for more information.
Topical Reports
| Date | Description |
| --- | --- |
| 01/09/13 | Approved Topical Report 08-002089-003, Rev. 3, "Instrument Setpoint Methodology Topical Report." (Approved version of Topical Report, NRC Safety Evaluation Report, Request for Additional Information (RAI), and Answers to RAIs) |
| 09/31/12 | Supplement to Topical Report R003-03-002106, MPWR-TOPR-000001, "Validation of B&W mPower Core Design Methods" (Non-Proprietary Version) |
| 07/12/11 | Approved Topical Report 08-00000320-000-A, Rev. 2, "Quality Assurance Program for the Design Certification of the B&W mPower Reactor." (Approved version of Topical Report, NRC Safety Evaluation Report, Request for Additional Information (RAI), and Answers to RAIs) |
| 08/31/10 | Topical Report R003-03-002106, Rev. 0, "B&W mPower Reactor Core Nuclear Design Codes and Methods Qualification Topical Report." |

Technical Reports
| Date | Description |
| --- | --- |
| 09/18/12 | Technical Report MPWR-TECR-005010, Rev 0, "Verification and Validation" (Non-Proprietary Version) |
| 07/09/12 | Position Paper MPWR-EPP-005010, Rev 0, "Position Paper on Radiological Source Term Methodology for B&W mPower™ Reactor" (Non-Proprietary Version) |
| 06/29/12 | Position Paper MPWR-EPP-005009, Rev 0, "B&W mPower™ Approach to Satisfy GSI-191" (Non-Proprietary Version) |
| 05/31/12 | Technical Report MPWR-TECR-005002, "Human Factors Engineering Program Management Plan" (Non-Proprietary Version) |
| 05/31/12 | Technical Report MPWR-TECR-005003, "Operating Experience Program" (Non-Proprietary Version) |
| 05/31/12 | Technical Report MPWR-TECR-005004, " Functional Requirements Analysis and Function Allocation" (Non-Proprietary Version) |
| 05/31/12 | Technical Report MPWR-TECR-005005, "Task Analysis" (Non-Proprietary Version) |
| 05/31/12 | Technical Report MPWR-TECR-005006, "Human Factors Engineering Integration of Human Reliability Analysis" (Non-Proprietary Version) |
| 11/30/11 | Technical Report MPWR-TECR-005013 (NP), Rev. 0, "Safety Analysis Evaluation Methodology Requirements for the B&W mPower Reactor." (Non-Proprietary Version) |
| 11/30/11 | Technical Report 06-00000392-001(NP), Rev. 1, "B&W mPower Reactor Integrated Systems Test Technical Report." (Non-Proprietary Version) |
| 09/23/11 | Technical Report MPWR-TECR-005012, Rev. 0, "B&W mPower Reactor Fuel System Mechanical Design Criteria." (Non-Proprietary Version) |
| 01/13/11 | Technical Report R0003-08-002708-000, Rev. 0, "Physical Security Design and Program Considerations." (Non-Proprietary Version) |
| 11/03/10 | Technical Report R0003-96-002506, Rev. 0, "Control Rod Drive Mechanism (CRDM) Design Details and Development Plan Technical Report." (Non-Proprietary Version) |
| 07/02/10 | Technical Report 06-00000392-000(NP), Rev. 0, "B&W mPower Reactor Integrated Systems Test." (Non-Proprietary Version) |
| 06/03/10 | Technical Report 08-00000341-000(NP), Rev. 0, "B&W mPower Reactor Design Overview." (Non-Proprietary Version) |
| 04/29/10 | Technical Report 06-00000334-000, Rev. 0, "B&W mPower CHF Test and Correlation Development Plan." (Non-Proprietary Version) |

Page Last Reviewed/Updated Friday, April 21, 2017
Home
About Us
Popular Documents
Stay Connected