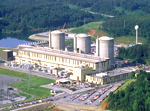 2012 Meetings for the BWXT mPower™ Design
The following table lists, in chronological order, the meetings that staff of the U.S. Nuclear Regulatory Commission (NRC) conducted with representatives of BWXT mPower, Inc., in connection with the pre-application activities associated with the BWXT mPower™ reactor design. To learn about future public meetings, see our Public Meeting Schedule.
This page includes links to files in non-HTML format. See Plugins, Viewers, and Other Tools for more information.
| Date | Description |
| --- | --- |
| 12/13/12 | mPower Non-Public Meeting on Security Staffing Strategy |
| 11/27/12 | mPower Non-Public Meeting on Nuclear Island System Design Update, Valve Design Discussion and Generic Safety Issue-191 |
| 09/20/12 | mPower Non-Public Meeting on ATWS Rule, Staff Feedback on Source Term Paper and Accident Analysis Technical Report |
| 07/26/12 | mPower Non-Public Meeting on Core Thermal Hydraulics and Vessel Riser Design Basis |
| 06/21/12 | mPower Public Meeting on Gale Code for Small Modular Reactors, mPower Design Specific Review Standard (DSRS) for Chapter 7 and Non-Public Meeting on Human Factors Engineering Program Development |
| 05/17/12 | mPower Non-Public Meeting on Seismic and Soil Interaction Analysis |
| 05/16/12 | mPower Non-Public Meeting on Instrumentation and Controls Architecture |
| 04/26/12 | mPower Non-Public Meeting on Core Nuclear Design Codes and Methods Qualification |
| 03/22/12 | mPower Non-Public Meeting on Reactor Design Overview Workshop |
| 03/21/12 | mPower Non-Public Meeting on Site Layout and Building Details, Electrical Overview, and Selected BOP Systems |
| 02/16/12 | mPower Non-Public Meeting on Core and Fuel Design Update |
| 02/01/12 | mPower Non-Public Meeting on the Status of the Integrated System Test Facility, and Overviews of the Electrical and Balance-of-Plant Designs |
| 01/31/12 | mPower Non-Public Meeting on the Instrumentation and Controls Software Development Plan, and Public Meeting on NRC Staff Presentation on Plans for Changes to mPower DSRS Chapter 7, Instrumentation and Controls |
Page Last Reviewed/Updated Thursday, February 16, 2017
Home
About Us
Popular Documents
Stay Connected