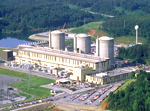 Design-Specific Review Standard (DSRS) for the mPower™ Design - Chapter 18
This page includes links to files in non-HTML format. See Plugins, Viewers, and Other Tools for more information.
NUREG-0800 SRP/DSRS Section No.
NUREG-0800 SRP/DSRS Section Title
Applicability of NUREG-0800 Section to mPower™ Design
Comments/Additional Guidance Documents to be used for Review, etc.
18.0
ML070670253
Human Factors Engineering
A) Use SRP Section "as-is" (minor comments)
SRP Section is in the process of an update.
Page Last Reviewed/Updated Thursday, February 16, 2017
Home
About Us
Popular Documents
Stay Connected