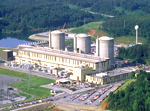 Design-Specific Review Standard (DSRS) for the BWXT mPower™ Design
The BWXT mPower DSRS, as detailed in the mPower™ DSRS Scope and Safety Matrix, is applicable to the review associated with a BWXT mPower™ design-related design certification (DC), combined license, or early site permit application under 10 CFR Part 52. The staff requested public comments on this "Proposed - For Interim Use and Comment" DSRS; following resolution of those comments, the BWXT mPower DSRS will be made final no later than the time of docketing of the anticipated DC application.
The staff received comments from Generation mPower, NuScale, Nuclear Energy Institute (NEI), and the International Atomic Energy Agency (IAEA) on Federal Register Notice (Docket ID NRC-2013-0089). The staff plans to engage public stakeholders through meetings that will be noticed on the Public Meeting Schedule.
Page Last Reviewed/Updated Thursday, February 16, 2017
Home
About Us
Popular Documents
Stay Connected