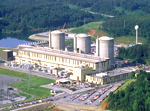 Pre-Application Documents for the BWXT mPower™ Design
The U.S. Nuclear Regulatory Commission (NRC) considers public involvement in, and information about, our activities to be a cornerstone of strong, fair regulation of the nuclear industry. As such, the NRC believes that nuclear regulation should be transacted as openly and candidly as possible to maintain and enhance the public's confidence. Ensuring appropriate openness explicitly recognizes that the public must be informed about, and have a reasonable opportunity to participate meaningfully in, the NRC's regulatory processes. Toward that end, this page provides access to documents and correspondence related to the pre-application activities with BWXT mPower, Inc. regarding their BWXT mPower™ small modular reactor design.
This page includes links to files in non-HTML format. See Plugins, Viewers, and Other Tools for more information.
The following table provides access to letters and other pre-application correspondence between BWXT mPower, Inc. and NRC regarding the BWXT mPower™ design.
| Date | Description |
| --- | --- |
| 03/11/13 | Generation mPower LLC - Establishment for B&W mPower Small Modular Reactor Licensing and Response to NRC Regulatory Issue Summary 2012-12 |
| 03/11/13 | B&W Supplemental Response to NRC Regulatory Issue Summary 2012-12, "Licensing Submittal Information and Design Development Activities for Small Modular Reactor Designs." |
| 02/08/13 | B&W Response to NRC Regulatory Issue Summary 2012-12, "Licensing Submittal Information and Design Development Activities for Small Modular Reactor Designs." |
| 12/12/12 | Letter from B&W to NRC, Subject NRC Completion of B&W mPower™ Design-Specific Review Standards (DSRS) |
| 08/22/12 | Letter from NRC Antony Calvo, CAMP Manager, Office of Nuclear Regulatory Research, to B&W, Subject Permission for Babcock And Wilcox Company to Receive Loss-of-Fluid Test Data and Summary Reports to Support mPower™ Design |
| 07/11/12 | Letter from B&W to NRC, Subject Schedule Update for the Supplement to Topical Report: "Core Nuclear Design Codes and Methods Qualification", R003-03-002106 |
| 06/04/12 | Letter from B&W to NRC, Subject, Organizational Name Change and Submittal of Five Babcock & Wilcox mPower, Inc. (B&W mPower) Human Factors Engineering (HFE) Technical Reports |
| 02/09/12 | Letter from B&W to NRC, Subject Voluntary Response to NRC Regulatory Issue Summary (RIS) 2011-02, Revision 1, "Licensing Submittal Information and Design Development Activities for Small Modular Reactor Designs," dated December 27, 2011 |
| 10/07/11 | Letter from B&W to NRC, Subject Submittal of Babcock & Wilcox Nuclear Energy, Inc. (B&W NE) Design Data to Support NRC Pre-Application Modeling of the mPower™ Reactor with MELCOR |
| 05/26/11 | Letter from NRC Michael E. Mayfield, Director, Advanced Reactor Program, to B&W, Subject Response to NRC Regulatory Issue Summary 2011-02, "Licensing Submittal Information and Design Development Activities for Small Modular Reactor Designs." |
| 03/25/11 | B&W Response to NRC Regulatory Issue Summary 2011-02, "Licensing Submittal Information and Design Development Activities for Small Modular Reactor Designs." |
| 11/18/10 | B&W Response to October 15, 2010 NRC Letter: "Preparations for Design Certification Reviews." |
| 10/28/10 | Updated List of Planned Report Submittals for the B&W mPower Reactor Project. |
| 10/15/10 | Letter from NRC Michael E. Mayfield, Director, Advanced Reactor Program, to B&W, Preparations for Design Certifications Reviews-B&W. |
| 07/22/10 | Letter from B&W to NRC, Subject Update to Schedule for Report Submittals for the B&W mPower Reactor Project. |
| 05/18/10 | Letter from NRC Michael E. Mayfield, Director, Advanced Reactor Program, to B&W, Subject Response to NRC Regulatory Issue Summary 2010-03, "Licensing Submittal Information for Small Modular Reactor Designs." |
| 04/01/10 | B&W Response to NRC Regulatory Issue Summary 2010-03, "Licensing Submittal Information for Small Modular Reactor Designs." |
| 12/17/09 | Letter from B&W to NRC Michael E. Mayfield, Director, Advanced Reactor Program, Subject B&W mPower Schedule for Topical Report Submittals. |
| 04/28/09 | Letter from Babcock & Wilcox (B&W) to NRC Chairman Dale E. Klein, Subject Intent to Submit an Application for Design Certification of the mPower Reactor. |

Page Last Reviewed/Updated Friday, April 21, 2017
Home
About Us
Popular Documents
Stay Connected