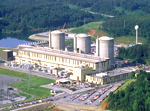 Pre-Application Review of the SMR-160 Design
The U.S. Nuclear Regulatory Commission (NRC) has a policy of encouraging early discussions (prior to submission of a license application) with potential applicants (such as utilities and reactor designers) to offer licensing guidance and to identify and resolve potential licensing issues early in the licensing process. Consistent with that policy, SMR Inventec, LLC, a Holtec International Company, has begun pre-licensing interactions with the NRC.
See also additional documents on this application.
Page Last Reviewed/Updated Friday, May 15, 2020
Home
About Us
Popular Documents
Stay Connected