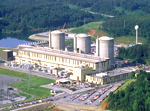 Workshop on Vendor Oversight Registration
The workshop is open to the public, and there is no registration fee. However, registration for the workshop is strongly encouraged to allow NRC's planning of the workshop.
Online registration is currently unavailable. Onsite registration will be available June 13 from 3:00PM to 5:00PM and on the morning of June 14.
Page Last Reviewed/Updated Monday, June 04, 2018
Home
About Us
Popular Documents
Stay Connected