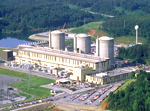 2008 Inspection Reports
The purpose of inspection reports is to document the inspection scope, observation, and findings of inspections conducted by the NRC. The NRC performs inspections to oversee the commercial nuclear industry to determine whether its requirements are being met by licensees and their contractors. The NRC performs inspections to verify the quality and suitability of vendor products, licensee-vendor interface, and review of equipment problems found during operation and their corrective action.
For inspections and related vendor inspections conducted by Region II for the Mixed Oxide Fuel Fabrication Facility, please reference the Meetings About Mixed Oxide Fuel page.
Prior to December 1999, the NRC issued NUREG-0040, "Licensee Contractor and Vendor Inspection Status Report," (The White Book) to document the results of inspections performed by the NRC's Quality Assurance, Vendor Inspection, Maintenance and Allegations Branch that were distributed to the inspected organizations. As of November 1999, these inspection reports are available electronically in the NRC's record retrieval system, ADAMS. The following inspections have been conducted since May 2005:
This page includes links to files in non-HTML format. See Plugins, Viewers, and Other Tools for more information.
Date
Description
12/17/08
Weir Valves & Controls (WVC) USA, Incorporated, Ipswich, MA, inspection of selected portions of WVC's quality assurance (QA) program, and 10 CFR Part 21 program
12/04/08
Enertech, Brea, CA, inspection of selected portions of Enertech's quality assurance (QA) program, and 10 CFR Part 21 program
11/18/08
Energy Steel & Supply Company (ESSC), Lapeer, MI, inspection of selected portions of ESSC's quality assurance (QA) program, and 10 CFR Part 21 program
11/04/08
Global Nuclear Fuel (GNF), Wilmington, NC, inspection of GNF's 10 CFR Part 21 program
10/15/08
Babcock and Wilcox (B&W) Nuclear Operations Group Mount Vernon Facility, Mount Vernon, IN, inspection of selected portions of B&W's quality assurance (QA) program, and 10 CFR Part 21 program
10/09/08
Fairbanks Morse Engine, Beloit, WI, inspection of selected portions of Fairbanks Morse's quality assurance (QA) program, and 10 CFR Part 21 program
09/17/08
Spectrum Technologies Utilities Service Division, Schenectady, NY, inspection of selected portions of Spectrum's quality assurance (QA) program, and 10 CFR Part 21 program
07/18/08
Doosan Heavy Industries, Changwon, Korea, inspection of selected portions of Doosan's quality assurance (QA) program, and 10 CFR Part 21 program
07/18/08
Mitsubishi Heavy Industries (MHI), Kobe, Japan, inspection of selected portions of MHI's quality assurance (QA) program, and 10 CFR Part 21 program

No Vendor Response Required

07/11/08
Invensys Process Systems (IPS), Irvine, CA, inspection of selected portions of IPS's quality assurance (QA) program, and 10 CFR Part 21 program
06/02/08
PCI Energy Services, LLC, Lake Bluff, IL, inspection of selected portions of PCI's quality assurance (QA) program, and 10 CFR Part 21 program
05/27/08
Namco Controls, Inc., Lancaster, SC, inspection of selected portions of Namco's quality assurance (QA) program, and 10 CFR Part 21 program
05/08/08
Tioga Pipe Supply Company, Inc., Philadelphia, PA, inspection of selected portions of Tioga's quality assurance (QA) program, and 10 CFR Part 21 program
05/07/08
Areva NP GmbH, Erlangen, Germany, inspection of selected portions of Areva NP GmbH's quality assurance (QA) program, and 10 CFR Part 21 program
05/02/08
RTP Corporation, Pompano Beach, FL, inspection of RTP's 10 CFR Part 21 program
Page Last Reviewed/Updated Thursday, April 14, 2016
Home
About Us
Popular Documents
Stay Connected