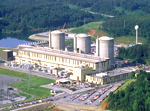 2018 QA Inspection and Audit Reports
The purpose of inspection and audit reports is to document the inspection/audit scope, observation, and findings of inspections and audits conducted by the NRC. The NRC performs inspections and audits to oversee the commercial nuclear industry to determine whether its requirements are being met by licensees and applicants, and their contractors. The following early site permit and combined license (COL) application inspections, and Pre-Design Certification and Pre-COL audits have been conducted:
This page includes links to files in non-HTML format. See Plugins, Viewers, and Other Tools for more information.
Inspection
Report Date
Description
11/19/18

NuScale Power, LLC., Corvallis, Oregon, limited scope inspection, as it pertains to design and analysis activities conducted at Ares Corporation.

06/01/18

Tennessee Valley Authority (TVA), Chattanooga, TN, limited scope inspection to access the implementation of the TVA "Nuclear Quality Assurance Plan" in support of design, procurement, and quality activities for the Clinch River Nuclear Site Early Site Permit Application.
Page Last Reviewed/Updated Wednesday, November 28, 2018
Home
About Us
Popular Documents
Stay Connected