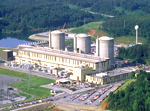 10 CFR 50 Appendix B Notices of Nonconformance (NON) and Violation (NOV) - XV. Nonconforming Materials, Parts, or Components
The following table lists, in chronological order, the Quality Assurance (QA) Inspection for New Reactor Licensing reports and Vendor QA Inspection reports with a Criterion XV NON/NOV.
This page includes links to files in non-HTML format. See Plugins, Viewers, and Other Tools for more information.
| Date | Title |
| --- | --- |
| 08/29/16 | Namco Controls Corporation, Elizabethtown, NC, limited scope inspection to assess compliance with selected portions of their quality assurance (QA) and 10 CFR Part 21 programs specifically, as it pertains to Namco's design, qualification, fabrication, testing, commercial-grade-dedication, and manufacturing of safety-related limit switches for operating nuclear plants and AP1000 plants. |
| 06/11/15 | Kinectrics, Toronto, ON, limited scope inspection to assess compliance with selected portions of their quality assurance (QA) and 10 CFR Part 21 programs specifically as they pertain to safety-related components supplied to operating nuclear power plants. |
| 04/20/15 | Pentas Controls, LLC., Phoenix, AZ, limited scope reactive inspection to assess compliance with selected portions of their quality assurance (QA) and 10 CFR Part 21 programs, specifically as they pertain to refurbishing and inspection of electronic components. |
| 11/21/14 | Specialty Maintenance and Construction, Inc. (SMCI), Lakeland, FL, limited scope inspection to assess compliance with selected portions of their quality assurance (QA) and 10 CFR Part 21 programs, as they pertain SMCI's implementation of quality activities associated with the fabrication of the remain-in-place steel formwork modules for concrete, in-containment refueling water storage tank wall and reactor vessel cavity modules for the Westinghouse Electric Company's AP1000 reactor design. |
| 11/18/14 | Oregon Iron Works, Inc., Clackamas, OR and Vancouver, WA, limited scope inspection to assess compliance with selected portions of their quality assurance (QA) and 10 CFR Part 21 programs, as they pertain to the implementation of safety-related activities for U.S. regulated facilities. |
| 05/16/14 | Specialty Maintenance and Construction, Inc., Lakeland, Florida, limited scope inspection to assess their compliance with selected portions of their quality assurance (QA) and 10 CFR Part 21 programs, specifically as it pertains to activities conducted related to the design, manufacture, and qualification testing of components for NRC regulated facilities |
| 04/21/14 | C&D Technologies, Blue Bell, PA, limited scope inspection to assess C&D Technologies' compliance with selected portions of their quality assurance (QA) and 10 CFR Part 21 programs, specifically as it pertains to their design process, dedication, and testing of batteries supplied to operating nuclear power plants. |
| 03/21/14 | Chicago Bridge & Iron (CB&I), Lake Charles, LA, limited scope inspection to assess CB&I's compliance with selected portions of their quality assurance (QA) and 10 CFR Part 21 programs specifically related to safety-related activities for US regulated facilities. |
| 04/22/13 | Dresser Masoneilan facility in Avon, Massachusetts, limited scope inspection to assess Dresser Masoneilan's compliance with selected portions of their quality assurance (QA) and 10 CFR Part 21 programs specifically related to quality assurance activities associated with the design, fabrication, assembly, and testing of safety-related valves and valve parts for U.S. nuclear power plants. |
| 07/27/12 | National Technical Systems (NTS) facility in Acton, MA, limited-scope routine inspection to assess NTS's compliance with selected portions of their quality assurance (QA) and 10 CFR Part 21 programs specifically associated with the seismic qualification testing of the tension bolt and position switch of the AP1000 design squib valves. |
| 06/22/12 | Fauske & Associates, LLC (FAI), Burr Ridge, IL., limited-scope routine inspection was to assess FAI's compliance with quality assurance (QA) program and 10 CFR Part 21 program, specifically associated with QA activities associated with the environmental qualification type testing of instrument cable in support of AP1000 licensing activities, specifically the postulated loss-of-coolant accident design-basis event. These tests, including qualification and functional tests are associated with or directly impact closure of inspections, tests, analyses, and acceptance criteria (ITAAC) from Revision 19 of the certified AP1000 design. Currently, these ITAAC are incorporated into the combined licenses of Vogtle Units 3 and 4 and V.C. Summer Units 2 and 3. |
| 01/06/12 | Shaw Modular Solutions, Lake Charles, LA, follow-up inspection of selected portions of SMS's quality assurance (QA) program and 10 CFR Part 21 program |
| 11/03/11 | Obayashi Corporation, Tokyo, Japan, inspection of selected portions of Obayashi Corporation's quality assurance (QA) program and 10 CFR Part 21 program |
| 10/28/11 | Flowserve Pump Division (Flowserve) facility, Vernon, CA, inspection of selected portions of Flowserve's quality assurance (QA) program and 10 CFR Part 21 program |
| 07/20/11 | CS Innovations, INC, (CSI), Scottsdale, AZ, inspection of selected portions of CSI's quality assurance (QA) program and 10 CFR Part 21 program |
| 02/02/11 | Mitsubushi Heavy Industries, LTD., US-APWR Design Certification Application - Inspection of the implementation of the quality assurance program to support the US-APWR DC application in accordance with the requirements of Appendix B to 10 CFR Part 50 and 10 CFR Part 21 at the MHI facilities in Kobe, Japan. |
| 08/18/09 | Flowserve, Flow Control Division, Raleigh, NC, inspection of selected portions of Flowserve's quality assurance (QA) program, and 10 CFR Part 21 program |
| 05/27/09 | Conval, Inc., Somers, CT, follow-up inspection of selected portions of Conval's quality assurance (QA) program, and 10 CFR Part 21 program |
| 10/15/08 | Babcock and Wilcox (B&W) Nuclear Operations Group Mount Vernon Facility, Mount Vernon, IN, inspection of selected portions of B&W's quality assurance (QA) program, and 10 CFR Part 21 program |
| 07/18/08 | Doosan Heavy Industries, Changwon, Korea, inspection of selected portions of Doosan's quality assurance (QA) program, and 10 CFR Part 21 program |
| 05/08/08 | Tioga Pipe Supply Company, Inc., Philadelphia, PA, inspection of selected portions of Tioga's quality assurance (QA) program, and 10 CFR Part 21 program |
| 05/07/08 | Areva NP GmbH, Erlangen, Germany, inspection of selected portions of Areva NP GmbH's quality assurance (QA) program, and 10 CFR Part 21 program |
| 10/16/07 | Conval Inc., Somers, CT, inspection of selected portions of Conval's quality assurance (QA) program, and 10 CFR Part 21 program |
| 09/22/06 | Nuclear Logistics Incorporated, Fort Worth, TX, inspection of selected portions of Nuclear Logistics Inc.'s quality assurance (QA) program, and 10 CFR Part 21 program |
Page Last Reviewed/Updated Thursday, June 01, 2017
Home
About Us
Popular Documents
Stay Connected