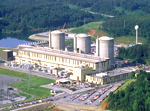 10 CFR 50 Appendix B Notices of Nonconformance (NON) and Violation (NOV) - IV. Procurement Document Control
The following table lists, in chronological order, the Quality Assurance (QA) Inspection for New Reactor Licensing reports and Vendor QA Inspection reports with a Criterion IV. NON/NOV.
This page includes links to files in non-HTML format. See Plugins, Viewers, and Other Tools for more information.
| Date | Title |
| --- | --- |
| 09/11/18 | Hayward-Tyler, Inc., Colchester, VT, limited scope inspection to assess compliance with selected portions of their quality assurance (QA) and Part 21 programs as it pertains to as they pertain to Hayward-Tyler, Inc.'s: design, qualification, commercial grade dedication, and manufacturing of safety related pumps and other equipment for operating nuclear power plants. Also, the inspection will review the activities that address the Notices of Noncompliance (NONs) from the previous NRC inspection. |
| 12/01/17 | SOR Inc., Lenexa, KS, limited scope inspection to assess compliance with selected portions of their quality assurance (QA) and Part 21 programs. |
| 06/05/17 | Velan Inc., Montreal, Canada, limited scope inspection to assess compliance with selected portions of their quality assurance (QA) and Part 21 programs as they pertain to activities conducted at their facility related to the design, fabrication, assembly, and testing of valves and replacement parts for NRC's regulated facilities. |
| 10/24/14 | Chicago Bridge & Iron Power, Charlotte, NC, limited scope inspection to assess compliance with selected portions of their quality assurance (QA) and 10 CFR Part 21 programs. |
| 11/08/13 | Newport News Industrial (NNI), Newport News, Virginia, limited scope inspection to assess NNIs' compliance with selected portions of their quality assurance (QA) and 10 CFR Part 21 programs as they pertain to activities conducted at their facility related to the design, manufacture, and qualification testing of safety-related components. |
| 08/20/13 | Pentair Valves and Controls, Mansfield, MA, limited scope inspection to assess Pentair Valves and Controls' compliance with selected portions of their quality assurance (QA) and 10 CFR Part 21 programs as they pertain to activities conducted at their facility related to the design, manufacture, and qualification testing of safety-related valves. |
| 07/31/13 | IBF S.p.A., Piacenza, Italy, limited scope inspection to assess IBF S.p.A.'s compliance with selected portions of their quality assurance (QA) and 10 CFR Part 21 programs as they pertain to activities conducted at their facility related to the fabrication of seamless piping for the reactor coolant loop of the AP1000 plants at the Vogtle, V.C. Summer, and Levy sites. |
| 07/16/13 | Babcock & Wilcox Canada Ltd. (BWC), Cambridge, Ontario Canada, limited scope inspection to assess BWC's compliance with selected portions of their quality assurance (QA) and 10 CFR Part 21 programs as they pertain to the design, fabrication, assembly, and testing activities of the Once Through Replacement Steam Generators for the Davis Besse Nuclear Power Station. |
| 07/02/12 | Kinectrics facility in Toronto, Ontario, limited-scope routine inspection to review implementation of Kinectric's quality assurance (QA) program and 10 CFR Part 21 program, specifically as it pertains to Kinectrics supply of testing services to support environmental qualification of components being supplied as part of the Westinghouse AP1000 reactor design as well as reviewing selected activities in support of testing and dedication of safety related components to the U.S. nuclear operating fleet. |
| 05/18/12 | Westinghouse Electric Company (WEC), New Stanton, PA., technically-focused, limited scope inspection was to assess WEC's compliance with selected portions of their quality assurance (QA) program and 10 CFR Part 21 program. |
| 01/06/12 | Shaw Modular Solutions, Lake Charles, LA, follow-up inspection of selected portions of SMS's quality assurance (QA) program and 10 CFR Part 21 program |
| 10/03/11 | Gerdau, Charlotte Reinforcing Steel, Charlotte, NC, inspection of selected portions of Gerdau's quality assurance (QA) program and 10 CFR Part 21 program |
| 09/20/11 | Shaw Nuclear Services (SNS), Charlotte, NC, limited-scope inspection of selected portions of SNS's quality assurance (QA) program |
| 09/13/11 | Emerson Process Management, Fisher Controls International LLC (Fisher Controls), Marshalltown, IA, inspection of selected portions of Fisher Control's quality assurance (QA) program and 10 CFR Part 21 program |
| 09/01/11 | Mitsubishi Heavy Industries, LTD., US-APWR Design Certification Application - Inspection of the implementation of the quality assurance processes and procedures for testing activities performed in support of the US-APWR DC application in accordance with the requirements of Appendix B to 10 CFR Part 50 and 10 CFR Part 21 at the Takasago Research and Development Center in Takasago, Japan. |
| 04/22/11 | Flowserve Limitorque, Lynchburg, VA, inspection of selected portions of Flowserve Limitorque's quality assurance (QA) program and 10 CFR Part 21 program |
| 07/12/10 | Tennessee Valley Authority, Bellefonte Units 3 and 4 Combined License Application - Inspection of the implementation of the quality assurance program and follow-up on the 2008 NRC limited-scope inspection on the Simulated Open Channel Hydraulic code to support the Bellefonte Units 3 and 4 COL application in accordance with the requirements of Appendix B to 10 CFR Part 50 and 10 CFR Part 21 at the TVA facilities in Chattanooga, TN. |
| 04/27/09 | Dresser Industries Incorporated, Alexandria, LA, inspection of selected portions of Dresser's quality assurance (QA) program, and 10 CFR Part 21 program |
| 05/27/08 | Namco Controls, Inc., Lancaster, SC, inspection of selected portions of Namco's quality assurance (QA) program, and 10 CFR Part 21 program |
| 12/18/07 | Velan Inc., Montreal, Canada, inspection of selected portions of Velan's quality assurance (QA) program, and 10 CFR Part 21 program |
| 09/28/07 | Westinghouse Nuclear Fuel, Westinghouse Electric Company, LLC, Columbia, SC, inspection of selected portions of Westinghouse Nuclear Fuel's quality assurance (QA) program, and 10 CFR Part 21 program |
Page Last Reviewed/Updated Tuesday, October 30, 2018
Home
About Us
Popular Documents
Stay Connected