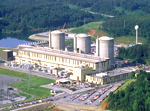 Vendor Center of Expertise (COE)
The Office of New Reactors (NRO) will now lead and perform routine and reactive vendor inspections and quality assurance (QA) implementation inspections for the commercial nuclear power industry including new and operating reactors due to the formation of the Centers of Expertise (COE).
The Centers of expertise (COE) was formed within NRO and the Office of Nuclear Reactor Regulation (NRR) in the areas of vendor inspection, allegations, electrical engineering, and operating experience/construction experience (OpE/ConE) in order to optimize the interdependency between the offices of NRO and NRR by streamlining activities across the offices, and to fully support the agency's mission by eliminating duplicate programs in related offices.
By combining the NRO and NRR vendor inspection programs into one organization, the agency can further enhance its commitment to safety by reducing duplicate guidance, the level of overhead required to maintain the expertise in both offices, and the level of effort expended to ensure consist enforcement actions and inspection effort. The COE will also provide a better environment for knowledge management for the vendor inspection staff, and provide the junior staff better accessibility to senior staff for mentoring and on-the-job training so that they can grow in their areas of expertise.
The Vendor Inspection COE, now located in NRO, combines the responsibilities of the two previous programs. The COE is responsible for performing reactive inspections in response to operating experience, reports of defects and noncompliance made in accordance with 10 CFR Part 21, and allegations, and conducting inspections to verify the effective implementation of vendor quality assurance programs in order to assure the quality of materials, equipment, and services supplied to the commercial nuclear power reactor industry.
Page Last Reviewed/Updated Wednesday, September 13, 2017
Home
About Us
Popular Documents