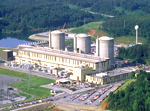 Supplemental Reports Related to the US-APWR Design Certification Application
This page provides access to the following documents, which Mitsubishi Heavy Industries, Ltd. (MHI), submitted to the U.S. Nuclear Regulatory Commission's (NRC), to supplement its design certification application for the U.S. Advanced Pressurized-Water Reactor (US-APWR):
This page includes links to files in non-HTML format. See Plugins, Viewers, and Other Tools for more information.
Topical Reports
Note that the following topical reports relate specifically to the US-APWR design certification application. For a collection of similar safety-related reports with broader applicability to prospective NRC licensees, see Topical Reports.
Date
Description
03/31/08
FINDS: Mitsubishi Fuel Assemblies Seismic Analysis Code

07/20/07
Large Break LOCA Code Applicability Report for US-APWR

07/20/07
Large Mass and Energy Release Analysis Code Applicability Report for US-APWR

07/20/07
Small Break LOCA Methodology for US-APWR

07/20/07
Non-LOCA Methodology

05/25/07
Thermal Design Methodology

05/25/07
Fuel Design Criteria and Methodology

04/10/07





07/03/07
Defense in Depth and Diversity

04/10/07






07/03/07
Human System Interface (HSI) System Description and Human Factors Engineering (HFE) Process

03/02/07





07/03/07
Safety System Digital Platform - MELTAC

03/02/07





07/03/07
Safety I&C System Description and Design Process

03/02/07
Revised Version of US-APWR Advanced Accumulator Topical Report
01/26/07
US-APWR Advanced Accumulator Topical Report
01/23/07







10/15/07
Submittal of Quality Assurance Program (QAP) Description for Design Certification of the Mitsubishi Heavy Industries, LTD. US-APWR

Technical Reports
| Date | Description |
| --- | --- |
| 04/25/08 | Dynamic Analysis of the Coupled RCL-R/B-PCCV-CIS Lumped Mass Stick |
| 02/29/08 | US-APWR Fuel System Design |
| 02/29/08 | Subcompartment Analyses for US-APWR Design Confirmation |
| 02/29/08 | Enhanced Information for PS/B Design |
| 02/27/08 | US-APWR Sump Strainer Performance |
| 02/27/08 | Criticality Analysis for US-APWR New and Spent Fuel Storage Racks |
| 12/31/07 | Comprehensive Vibration Assessment Program for US-APWR Reactor Internals |
| 12/31/07 | Defense-in-Depth and Diversity Coping Analysis |
| 12/31/07 | FMEA of Control Rod Drive Mechanism Control System |
| 12/31/07 | US-APWR Incore Power Distribution Evaluation Methodology |
| 12/31/07 | Justification for Deviations between NUREG-1431 Rev. 3.1 and US-APWR Technical Specifications |
| 12/31/07 | Validation of the MHI Criticality Safety Methodology |
| 12/31/07 | Probability of Missile Generation from Low Pressure Turbines |
| 12/31/07 | Qualification of Nuclear Design Methodology using PARAGON/ANC |
| 12/31/07 | Structural Analysis for US-APWR Reactor Coolant Pump Motor Flywheel |
| 12/31/07 | Mitsubishi Reload Evaluation Methodology |
| 12/31/07 | APWR Reactor Internals 1/5 Scale Model Flow Test Report |
| 12/31/07 | US-APWR Technical Report Software Program Manual |
| 12/31/07 | Probabilistic Evaluation of Turbine Valve Test Frequency |
| 12/31/07 | Small Break LOCA Sensitivity Analyses for US-APWR |
| 12/31/07 | US-APWR Fuel System Design Parameters |
| 12/05/07 | Qualification and Test Plan of Class 1E Gas Turbine Generator System |
| 11/01/07 | Common Cause Failure Potential for Safety System Digital Platform |

Page Last Reviewed/Updated Thursday, April 13, 2017
Home
About Us
Popular Documents
Stay Connected