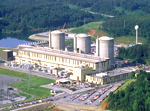 2009 NRC Documents for Levy County, Units 1 and 2 Application
The following table provides access to documents and correspondence that the NRC has issued in 2009 in connection with its review of the COL application that PEF submitted for Levy County, Units 1 & 2.
This page includes links to files in non-HTML format. See Plugins, Viewers, and Other Tools for more information.
| Date | Description |
| --- | --- |
| 10/05/09 | U.S. Army Corps of Engineers, SAJ-2008-00490(JD2-GAH) Jurisdictional Wetlands Verification- "Approved" and "Preliminary" |
| 09/16/09 | Levy County Nuclear Power Plant Units 1 and 2 Combined License Application - Revised Review Schedule |
| 07/24/09 | Summary of the Environmental Site Audit and Alternative Sites Visit Related to the Review of the Combined License |
| 05/28/09 | Environmental Scoping Summary Report for Levy Nuclear Power Plant Units 1 and 2 |
| 04/30/09 | Progress Energy Corporation - Request for Withholding of Proprietary Information Related to Shearon Harris Nuclear Power Plant Units 2 and 3 and Levy Nuclear Power Plant Units 1 and 2 |
| 03/16/09 | Public Notice, U.S. Army Corps of Engineers, Public Notice Describing the Levy Project and State and Federal Agency Responsibilities, Permit Application No. SAJ-2008-490 (IP-GAH) |
| 02/18/09 | Levy County Nuclear Power Plant Units 1 and 2 Combined License Application Review Schedule |
Page Last Reviewed/Updated Thursday, April 06, 2017
Home
About Us
Popular Documents
Stay Connected