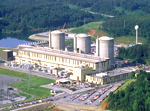 2009 NRC Documents for Calvert Cliffs, Unit 3 Application
The following table provides access to documents and correspondence that the NRC has issued in 2009 in connection with its review of the COL application that Calvert Cliffs 3 Nuclear Project, LLC and UniStar Nuclear Operating Services, LLC submitted for Calvert Cliffs, Unit 3.
This page includes links to files in non-HTML format. See Plugins, Viewers, and Other Tools for more information.
| Date | Description |
| --- | --- |
| 09/16/09 | Condition Letter for the Electronic Portal for the Calvert Cliffs COL Review |
| 08/20/09 | Issuance of a Revised Environmental Schedule for the Combined License Application Review for the Calvert Cliffs Nuclear Power Plant, Unit 3 |
| 08/20/09 | Safety Project manager Change for the Combined License Safety Review for Calvert Cliffs Nuclear Power Plant Unit 3 |
| 07/14/09 | Review Schedule for Calvert Cliffs Unit 3 Combined License Application (Safety Review) |
| 03/23/09 | Environmental Project Manager Change for the Combined License Environmental Review for Calvert Cliffs Nuclear Power Plant Unit 3 |
| 01/16/09 | Change in Schedule of the Calvert Cliffs Combined License Application Environmental Review |
Page Last Reviewed/Updated Tuesday, March 28, 2017
Home
About Us
Popular Documents
Stay Connected