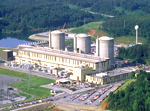 2007 Applicant Documents for Calvert Cliffs, Unit 3 Application
The following table provides access to the COL Application and other documents that Calvert Cliffs 3 Nuclear Project, LLC and UniStar Nuclear Operating Services, LLC submitted in 2007 for Calvert Cliffs, Unit 3.
This page includes links to files in non-HTML format. See Plugins, Viewers, and Other Tools for more information.
| Date | Description |
| --- | --- |
| 12/14/07 | December 14, 2007 revision to partial COL application |
| 10/30/07 | October 30, 2007 response to acceptance review letter |
| 09/11/07 | September 11, 2007 supplement (General Information Binder) |
| 08/02/07 | August 2, 2007 supplement (ER Chapters 4 - 10) |
| 07/13/07 | Calvert Cliffs COLA, Part I, July 13 and July 16, 2007 (FSAR Chapter 2, ER Chapters 1 - 3, Administrative Information) |
Page Last Reviewed/Updated Tuesday, March 28, 2017
Home
About Us
Popular Documents
Stay Connected