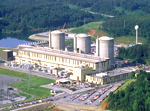 2009 NRC Documents for Callaway, Unit 2 Application
The following table provides access to documents and correspondence that the NRC has issued in 2009 in connection with its review of the COL application that Union Electric Company (AmerenUE) submitted for Callaway, Unit 2.
This page includes links to files in non-HTML format. See Plugins, Viewers, and Other Tools for more information.
| Date | Description |
| --- | --- |
| 06/29/09 | NRC Response to AmerenUE's Letter ALNRC 00041 (June 23, 2009) |
| 05/26/09 | NRC Letter to AmerenUE Transmitting Callaway Plant Unit 2 Combined License Application Review Schedule |
| 05/04/09 | NRC Letter in Response to AmerenUE Letter ALNRC 00018 |
| 02/04/09 | Notice of Hearing and Opportunity To Petition for Leave To Intervene |
| 01/23/09 | Notice of Intent to Prepare an Environmental Impact Statement and Conduct Scoping Process |
Page Last Reviewed/Updated Tuesday, March 28, 2017
Home
About Us
Popular Documents
Stay Connected