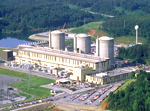 Requests for Additional Information and Responses on NGNP White Papers
Listed below are responses to NRC requests for additional information on the respective NGNP white paper submittals from DOE and INL.
This page includes links to files in non-HTML format. See Plugins, Viewers, and Other Tools for more information.
The following table provides access to RAIs and the subsequent responses.
RAI Subject
Applicant Response
NGNP White Papers on Fuel Qualification and Mechanistic Source Terms
09/21/11
08/10/11
NGNP White Paper on Defense-in-Depth Approach
09/15/10
NGNP White Papers on Defense-in-Depth Approach; Licensing Basis Event Selection; and Structures, Systems, and Components Classification
10/14/11
NGNP White Paper on High Temperature Materials
09/27/11
Page Last Reviewed/Updated Thursday, February 16, 2017
Home
About Us
Popular Documents
Stay Connected