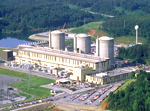 Public Meetings for 2015
This page lists, in chronological order, the notices, slides and summaries documenting the public meetings held concerning Operator Licensing for New Reactors for 2015. To learn about future meetings, see our public meeting schedule page.
This page includes links to files in non-HTML format. See Plugins, Viewers, and Other Tools for more information.
| Date | Description |
| --- | --- |
| 09/22/15 | The NRC conducted a public meeting with representatives from the Industry Focus Group to discuss issues related to implementation of NRC's operator licensing program and proposed changes to the operator licensing process. |
| 04/22/15 | The NRC conducted a public meeting with representatives from the Industry Focus Group to discuss issues related to implementation of NRC's operator licensing program and proposed changes to the operator licensing process. |

Page Last Reviewed/Updated Wednesday, September 13, 2017
Home
About Us
Popular Documents