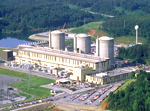 Generic Fundamentals Examinations for New Reactor Operators
The Generic Fundamentals Examination (GFE) is the first in a series of examinations administered by the NRC to reactor operator (RO) and senior reactor operator (SRO) license applicants at U.S. nuclear power plants under the regulatory authority of the NRC. Examinations are administered quarterly in the months of March, June, September, and December of each year. The date of the examination occurs on the first Wednesday following the first Sunday in the above months.
Questions used on past GFEs have been compiled into question banks for each reactor type. The NRC updates this site semiannually, approximately two months following the June and December examinations.
For more information see:
Page Last Reviewed/Updated Thursday, October 17, 2019
Home
About Us
Popular Documents
Stay Connected