Technologies: Coated Cladding | Doped Pellets | FeCrAl Cladding | Increased Enrichment | Higher Burnup | Longer Term Technologies
FeCrAl Cladding
This page includes links to files in non-HTML format. See Plugins, Viewers, and Other Tools for more information.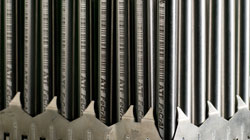 Iron-Chromium-Aluminum (FeCrAl) cladding is one of the three near-term technologies being pursued by nuclear fuel vendors.
As an alternative to zirconium alloys that have been used for fuel rod cladding for the past 40 years, an FeCrAl-based alloy is being developed by Oak Ridge National Labs and Global Nuclear Fuel – Americas.
The possible advantages of FeCrAl cladding are:
Improved high-temperature steam oxidation, which may result in longer coping times and less hydrogen generation under design basis accident and severe accident conditions
Improved strength at normal operating conditions and high-temperature accident conditions. Fuel cladding thickness could be reduced to provide more fuel volume to improve cycle economics
Improved normal operation corrosion performance and no hydrides (which may improve cladding ductility)
Lead test assemblies containing FeCrAl cladding have been inserted into U.S. power reactors.
FeCrAl cladding-related licensing actions received by the NRC can be found on the ATF-related licensing actions page.

Page Last Reviewed/Updated Thursday, July 23, 2020
Home
About Us
Popular Documents
Stay Connected