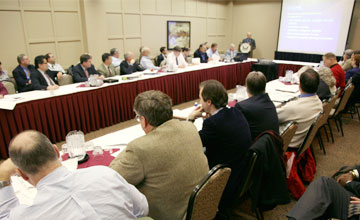 Session Information
Recording of Sessions
All plenary and technical sessions are recorded. Recordings of the presentation materials will be posted to the RIC Web site approximately thirty (30) business days following the conclusion of the conference.

Questions for Panelists
We invite RIC participants to actively take part in the conference by engaging in the question and answer portion of each technical session. You can join the discussion by submitting question(s) on written cards to the session speakers and panelists. Room Monitors will collect the cards and provide them to the session coordinator or chairperson for response. Every effort will be made to answer questions during the allotted technical session time.
Important note: Unanswered questions will no longer be collected, answered, and made available on the RIC Web site after the conclusion of the conference. Therefore, if your written question is not addressed during the session, please feel free to approach the session chair, speaker, or panelist(s) after the session has ended, or e-mail them directly.

Feedback and Evaluation Forms
Your feedback about the RIC is very important to us! The NRC uses your feedback to help refine the conference program to further enhance the conference experience. RIC participants may access the conference and technical session evaluation forms electronically by: (1) selecting from the
RIC Web site
, or by (2) texting from their digital device @RICOverall to 39242 to comment on the overall conference, or texting @RIC(
session number
) to comment on a specific technical session.

Page Last Reviewed/Updated Tuesday, September 11, 2018