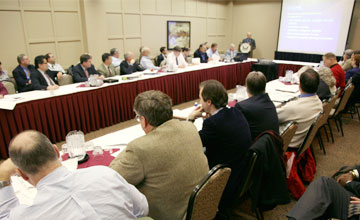 RIC 2005 Conference Program
The Program and Conference Schedule provides RIC 2005 session information. Presentations and speeches made at the conference are available below.
The IOUs and Action Items list provides responses to questions which were not answered at the conference, and followup responses to actions that were taken away from the conference.
The Registrant List (updated March 7, 2005) - provides the name, business address, phone number, and email address of conference registrants who gave permission to post their information on-line.
See the following for presentations and speeches made during the RIC 2005 conference.
The following links on this page are to documents in Adobe Portable Document Format (PDF). See our Plugins, Viewers, and Other Tools page for more information.
Tuesday, March 8, 2005
Session
Session Name
Name of Presenter / Presentation type
P1
Welcome

Jim Dyer
Presentation

Luis A. Reyes
Presentation

P2
Plenary Session

Nils J. Diaz, NRC Chairman
Presentation: Text

P3
Regulatory Trends
Jim Dyer
Presentation
P4
Plenary Session
Jeffrey S. Merrifield, NRC Commissioner
Speech: Text
Presentation
A1
Risk Informing Emergency Core Cooling System (50.46) Requirements
B1
Spent Fuel Management

Jack R. Strosnider
Presentation

W. John Arthur, III
Presentation

J. Gary Lanthrum
Presentation

John D. Parkyn
Presentation

Timothy A. Runyon
Presentation

C1
Grid Reliability
F1
ROP / Inspection Program

Gregg R. Overbeck
Presentation

Brian E. Holian
Presentation

Gary N. Wright
Presentation

Stuart A. Richards
Presentation

Tony Pietrangelo
Presentation

G1
Material Issues
Richard J. Barrett
Presentation

Michael E. Mayfield
Presentation

William R. McCollum, Jr.
Presentation

H1
Power Uprates
A2
New Reactor Licensing Issues
B2
Safeguards / Security: Striving for Regulatory Stability in a Post-9/11 Environment
C2
PWR Sump
F2
Operating Experience
G2
Research Activities PRA
H2
Licensing Issues

Wednesday, March 9, 2005
Session
Session Name
Name of Presenter / Presentation type
A3
50.69
B3
Objective Measures of Safety Culture
C3
Research Activities Materials Degradation
F3
ROP / PIs
G3
Research Activities New Reactors
H3
Emergency Preparedness


A4
International Use of Operating Experience

Andre-Claude Lacoste
Presentation

Jukka Laaksonen
Presentation

Dr. Kiyoharu ABE
Presentation

For all other presentations, please contact Session Coordinator Michael Cullingford, 301-415-1276, email Michael.Cullingford@nrc.gov

B4
State Interface in Emergency Response
C4
Fire Protection
F4
ROP / Cross Cutting Issues
G4
Risk Informed

Gareth W. Parry
Presentation

Eugene M. Kelly
Presentation

Mike Tschiltz
Presentation (Reg Guides)
Presentation (PRA)

Michelle P. Carr
Presentation

William E. Burchill
Presentation

H4
Davis Besse Lessons Learned
P6
Plenary Session
Gregory B. Jaczko, NRC Commissioner
Speech: Text
Presentation
P7
Plenary Session
Peter B. Lyons, NRC Commissioner
Speech: Text

Thursday, March 10, 2005

Page Last Reviewed/Updated Thursday, August 17, 2017
Home
About Us
Popular Documents