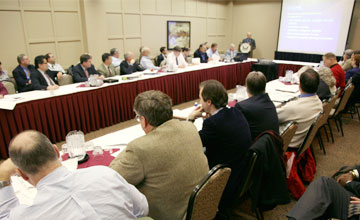 RIC 2004 Conference Program
The Program and Conference Schedule provides RIC 2004 session information. Presentations and speeches made at the conference are available below.
The IOUs and Action Items list provides responses to questions which were not answered at the conference, and followup responses to actions that were taken away from the conference.
The Attendance Statistics (Text Format ) shows a statistical breakdown of the conference attendees by affiliation, including the countries that were represented.
The Registrant List (updated March 30, 2004) - provides the name, business address, phone number, and email address of conference registrants who gave permission to post their information on-line.
Organization Chart - Text Format | Photo Format
See the following for presentations and speeches made during the RIC 2004 conference.
This page includes links to files in non-HTML format. See Plugins, Viewers, and Other Tools for more information.
Wednesday, March 10, 2004

Thursday, March 11, 2004

Friday, March 12, 2004

Page Last Reviewed/Updated Monday, April 04, 2016