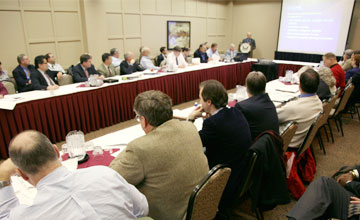 RIC 2000 Conference Program
The Program and Conference Schedule provides RIC 2000 session information. Presentations and speeches made at the conference are available below.
The IOUs and Action Items list provides responses to questions which were not answered at the conference, and followup responses to actions that were taken away from the conference.
See the following for presentations and speeches made during the RIC 2000 conference
This page includes links to files in non-HTML format. See Plugins, Viewers, and Other Tools for more information.
Monday, March 27, 2000
Session
Session Name
Name of Presenter / Presentation type
M2
Plenary Session

Richard A. Meserve, NRC Chairman
Speech

M6
Region III Breakout
Christopher M. Crane
Presentation

Tuesday, March 28, 2000
Session
Session Name
Name of Presenter / Presentation type
T1
Regulatory Trends
Samuel J. Collins
Presentation
T3
Waste Issues
John T. Greeves
Presentation

Russell A. Mellor
Presentation

T4
Technical Specifications & Licensing Improvements

Risk-Informed Technical Specifications
Presentation

NRC Regulatory Issue Summary 2000-06
Presentation

T6
Revised Oversight Processes
David Lochbaum
Presentation
T7
Decommissioning

Stuart A. Richards
Presentation

John T. Greeves
Presentation

Michael J. Meisner
Presentation

T8
Use of Risk Insight in Current Licensing Activities

SG Regulatory Framework
Presentation

Risk-Informed Technical Specifications
Presentation

T9
Public Confidence
Roy P. Zimmerman
Presentation
T10
NRC Web Design Re-Design
Re-Design of NRC Web Site
Presentation
T11
Plenary Session
Greta Joy Dicus,
NRC Commissioner
Speech
T12
Luncheon Speaker
Joe Colvin, President and Chief Executive Officer, NEI
Presentation
T15
Industry Initiatives
Voluntary Industry Initiatives
Presentation
T16
Information Access/Sharing
Eugene Yang
Presentation
T17
International Regulatory Experience

Anibal Martin
Presentation

Lasse Reiman
Presentation

Wednesday, March 29, 2000

Page Last Reviewed/Updated Monday, April 08, 2019
Home
About Us
Popular Documents