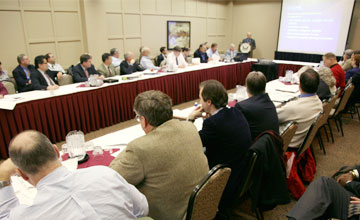 Welcome to the 2011 Fuel Cycle Information Exchange
I welcome the opportunity to host the Fuel Cycle Information Exchange (FCIX) as part of my new assignment in the Office of Nuclear Material Safety and Safeguards at the U.S. Nuclear Regulatory Commission (NRC).  Each year, the FCIX provides an open, public setting to discuss the regulation of civilian nuclear fuel cycle facilities.  The attendees typically include our staff, nuclear industry representatives, licensees, Federal Government representatives, international regulators, and other stakeholders, including members of the public.
The theme for FCIX 2011 is "Collaboration and Information Sharing on the Nuclear Fuel Cycle."  This theme reflects the NRC's commitment to effective communication among interested stakeholders for the purpose of enhancing safety through shared knowledge and experience.  The FCIX is part of our ongoing effort to share information with the public, maintain transparency in our regulatory activities, and capture knowledge gained through experience within the nuclear industry.  As in the past, we have assembled a variety of highly qualified experts to share their experience and knowledge as speakers and panelists.
Communication is a two-way street, and your participation is vital to the success of this information exchange.  We look forward to a robust dialogue on the many topics related to our mission of ensuring public health and safety, promoting the common defense and security of our Nation, and protecting the environment.
Sincerely,

John D. Kinneman, Director
Division of Fuel Cycle Safety and Safeguards
Office of Nuclear Material Safety and Safeguards
Page Last Reviewed/Updated Thursday, November 07, 2013
Home
About Us
Popular Documents
Stay Connected