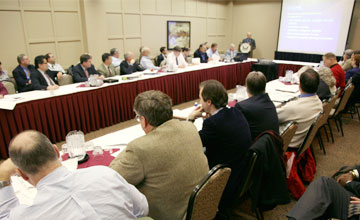 Program for Fuel Cycle Information Exchange
This year's FCIX will have a listen only bridgeline during both days of the conference:
June 10
Bridgeline 1-888-988-9429
Passcode: 61757
June 11
Bridgeline: 1-888-9429
Passcode:33422
For those participating in the bridgeline, questions may be directed to FCIX_Registration.Resouce@nrc.gov. Answers will be posted on the public website after the conference.
Portions of the conference will be webcast.
The program from previous years FCIX conferences are also available for information.
Page Last Reviewed/Updated Monday, December 19, 2016
Home
About Us
Popular Documents
Stay Connected