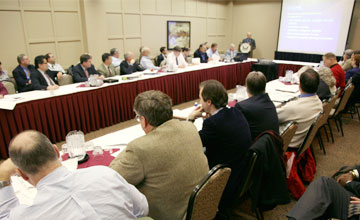 Incident Response Center Tours for Fuel Cycle Information Exchange
Attendees are invited to tour the USNRC Operations Center which serves as the focal coordination point for communications with USNRC licensees, State entities, and other Federal agencies during incidents and events at fuel cycle facilities.
This tour will address the roles and responsibilities of the various teams that comprise the USNRC response organization when it is staffed during an emergency involving a USNRC licensed facility. It will also address the resources that the USNRC utilizes when communicating information to external stakeholders and receiving information from the licensees during an emergency. The tour is about an hour in length.
Please note that each Incident Response Experience session is limited to 15 attendees and registration is required. Photo identification will be required to participate in the tour.
The tour schedule is:
Tuesday, June 23, 2009
Thursday, June 25, 2009
10:00 am tour (FILLED)



11:00 am tour NEW!
Page Last Reviewed/Updated Wednesday, November 06, 2013
Home
About Us
Popular Documents
Stay Connected