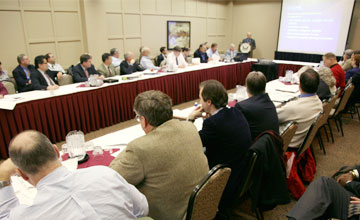 Public Meeting Schedule: Meeting Details
[
New Search
]
---
Purpose

For NRC to meet with NAC International, Inc. regarding the post-submittal on Model No. MAGNASTOR storage cask Amendment No. 9

Meeting Feedback

Meeting Dates and Times

12/11/19
1:00PM - 3:00PM



Meeting Location

NRC Two White Flint North
11545 Rockville Pike
9-D2
Rockville MD


Contact

Bernard White
301-415-6577



Participation Level

Category 1

NRC Participants

Office of Nuclear Material Safety and Safeguards


External Participants

NAC International


Docket Numbers - Facility Names

07201031 - NAC INTERNATIONAL, INC.


Related Documents

ML19326C273 - 12/11/2019 Notice of Partially Closed Post-submittal Meeting on Model No. MAGNASTOR Storage Cask Amendment No. 9



Comments

Please note a portion of this meeting will be closed to the public, as it will focus on discussion of trade secrets or commercial information that is considered proprietary or confidential, as specified in 10 CFR 2.390.