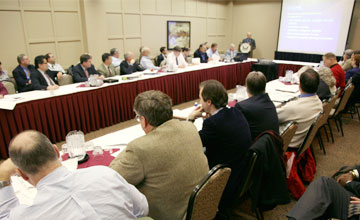 Public Meeting Schedule: Meeting Details
[
New Search
]
---
Purpose

To have a second pre-application meeting regarding Holtec International's plans to submit a Thermal Topical Report for allowance of candidate heat load patterns without an amendment request.

Meeting Feedback

Meeting Dates and Times

11/21/19
8:00AM - 11:00AM



Meeting Location

NRC Three White Flint North
11601 Landsdown Street
1C03
Rockville MD


Contact

Christian Jacobs
301-415-6825

Jose Cuadrado
301-415-0606



Participation Level

Category 1

NRC Participants

Office of Nuclear Material Safety and Safeguards


External Participants

Holtec International


Docket Numbers - Facility Names

07201014 - HOLTEC INTERNATIONAL
07201032 - HOLTEC INTERNATIONAL
07201040 - HOLTEC INTERNATIONAL


Related Documents

ML19309F686 - Holtec Presubmittal Meeting #2 on Topical Report - Nonprop (Public)

ML19310F050 - 11/21/2019 Second Pre-application Meeting with Holtec International to Discuss Holtec International's Plans to Submit a Thermal Topical Report for Allowance of Candidate Heat Load Patterns without an Amendment Request.



Teleconference

Bridge Number: 18884555486
Passcode: 1467644

Comments

*PLEASE NOTE A PORTION OF THE MEETING IS CLOSED TO THE PUBLIC DUE TO PROPRIETARY INFORMATION.