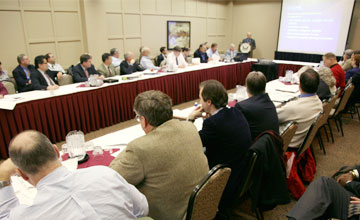 Public Meeting Schedule: Meeting Details
[
New Search
]
---
Purpose

The purpose of this meeting is for NRC staff and industry to discuss steam generator issues.

Meeting Feedback

Meeting Dates and Times

* Date/Time Change *

11/14/19
8:30AM - 2:30PM



Meeting Location

NRC Three White Flint North
11601 Landsdown Street
1C03-1C05
Rockville MD


Contact

Alan Huynh
301-415-1137

Paul Klein
301-415-4030

Helen Cothron
null



Participation Level

Category 2

NRC Participants

A. Huynh, et al., Office of Nuclear Reactor Regulation


External Participants

H. Cothron, et al., Electric Power Research Institute (EPRI)
L. Friant, et al., Exelon


Docket Numbers - Facility Names

Related Documents

ML19308B755 - 11/14/2019 Steam Generator Task Force Meeting

ML19305D290 - February 13, 2019 SGTF Presentation - Operational Assessment Process Could Safely Replace Existing Prescriptive Technical Specifications Intervals Comments - Redacted

ML19317F251 - Technical Meeting Between Steam Generator Task Force and NRC Technical Staff.



Comments

Portions of this meeting during which proprietary information is discussed will be closed to the public. The agenda may be changed due to information and/or personnel availability. Members of the public can participate via a toll-free conference. Please email the meeting contact(s) to obtain the telephone number and access code.