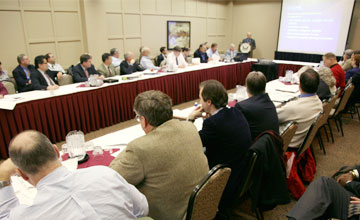 Public Meeting Schedule: Meeting Details
[
New Search
]
---
Purpose

To discuss Duke Energy's plans to submit a relief request to allow Duke Energy sites to extend the interval between reactor vessel closure stud examinations from 10 years to a maximum of 30 years. The request will utilize a 2018 Technical Report (TR) developed by Electric Power Research Institute (EPRI) TR 3002014589, "Technical Basis for Optimization of the Volumetric Examination Frequency for Reactor Vessel Studs."

Meeting Feedback

Meeting Dates and Times

* Date/Time Change *

11/18/19
1:00PM - 4:00PM



Meeting Location

NRC One White Flint North
11555 Rockville Pike
O9-B04
Rockville MD


Contact

Andrew Hon
301-415-8480

Martha Barillas
301-415-2760



Participation Level

Category 1

NRC Participants

Andrew Hon, Office of Nuclear Reactor Regulation
Matthew Mitchell, Office of Nuclear Reactor Regulation
Hipolito Gonzalez, Office of Nuclear Reactor Regulation


External Participants

Art Zaremba, Duke Energy


Docket Numbers - Facility Names

05000261 - Robinson 2
05000269 - Oconee 1
05000270 - Oconee 2
05000287 - Oconee 3
05000324 - Brunswick 2
05000325 - Brunswick 1
05000369 - McGuire 1
05000370 - McGuire 2
05000400 - Harris 1
05000413 - Catawba 1
05000414 - Catawba 2


Related Documents

ML19318F899 - 11/18/2019 Presubmittal Meeting with Duke Energy to Discuss a Proposed Relief Request to Extend the Interval Between Reactor Vessel Closure Stud Examinations from 10 Years to a Maximum of 30 Years for Duke Energy Operating Reactor Facilities

ML19318F291 - Duke Energy Presentation for the Pre-submittal Meeting on November 18, 2019, Regarding the RPV Stud Examination Relief Request.



Comments

Interested members of the public can participate in this meeting via a toll-free audio teleconference. Please call or e-mail one of the meeting contacts listed above by November 15, 2019, for the telephone number and passcode.