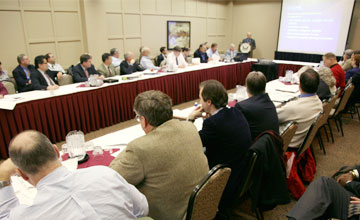 Public Meeting Schedule: Meeting Details
[
New Search
]
---
Purpose

The purpose of this meeting is to discuss TVA's planned license amendment request to revise Watts Bar Nuclear Plant, Units 1 and 2, Technical Specification 3.3.5, "Loss of Power (LOP) Diesel Generator (DG) Start Instrumentation."

Meeting Feedback

Meeting Dates and Times

10/10/19
1:00PM - 2:00PM



Meeting Location

Teleconference


Contact

Michael Wentzel
301-415-4659



Participation Level

Category 1

NRC Participants

Michael Wentzel, Office of Nuclear Reactor Regulation


External Participants

Russell Wells, Tennessee Valley Authority


Docket Numbers - Facility Names

05000390 - Watts Bar 1
05000391 - Watts Bar 2


Related Documents

ML19273A482 - 10/10/2019 Teleconference with Tennessee Valley Authority (TVA) to Discuss a Planned License Amendment Request for Watts Bar Nuclear Plant, Units 1 and 2

ML19282A008 - TVA Slides for Pre-Submittal Meeting for License Amendment Request to Correct Unbalanced Voltage Relay Instrumentation Values



Comments

The public can participate in this teleconference. Please contact the NRC meeting contact listed above at least 2 hours prior to the meeting start time for the toll-free telephone conference number and passcode.