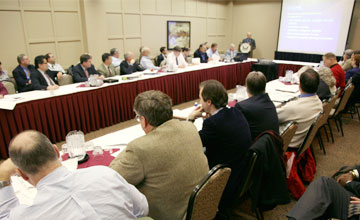 Public Meeting Schedule: Meeting Details
[
New Search
]
---
Purpose

To discuss issues related to public access of ADAMS.

Meeting Feedback

Meeting Dates and Times

11/13/19
2:00PM - 3:00PM



Meeting Location

One White Flint North
11555 Rockville Pike
1F21
Rockville MD


Contact

Anna T. McGowan
301-415-7204

Public Document Room
301-415-4737



Participation Level

Category 3

NRC Participants

NRC Staff


External Participants

Public
Stakeholders


Docket Numbers - Facility Names

Related Documents

ML19262C939 - Annual AUG Meeting November 13, 2019



Teleconference

Bridge Number:
Passcode:

Comments

Users unable to travel to NRC Headquarters can participate by telephone. To use the Telephone Bridge, call the toll-free number 1-888-390-1064. At the prompt, enter the pass code 19479.