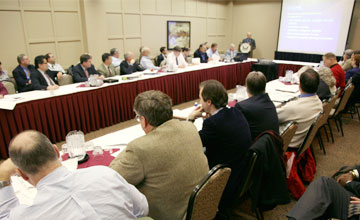 Public Meeting Schedule: Meeting Details
[
New Search
]
---
Purpose

To discuss the draft license conditions that would appear in the amended license for Jefferson Proving Ground SUB-1435 with the Army.

Meeting Feedback

Meeting Dates and Times

09/16/19
10:00AM - 11:00AM



Meeting Location

Teleconference
5A35


Contact

Priya Yadav
301-415-6667



Participation Level

Category 1

NRC Participants

Office of Nuclear Material Safety and Safeguards


External Participants

US Department of the Army


Docket Numbers - Facility Names

04008838 - ARMY, DEPARTMENT OF THE


Related Documents

ML19254D661 - Public Meeting Notice, Emails, and Handouts for 9/16/19 Meeting on Amendment 20 to Jefferson Proving Ground SUB-1435

ML19249B976 - 09/16/2019 Jefferson Proving Ground Materials License No. SUB-1435, Amendment to Possession-only License



Teleconference

Interested members of the public can participate in this meeting via a toll-free teleconference.
For details, please call the NRC meeting contact.

Comments

Meeting will take place at 10am EDT. Interested members of the public can listen to the entire meeting and participate in this meeting at certain points via teleconference. Interested parties can contact the meeting contact listed above, Priya Yadav via email or phone, for the Bridgeline information.