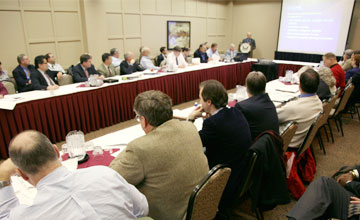 Public Meeting Schedule: Meeting Details
[
New Search
]
---
Purpose

The purpose of this meeting is to discuss technical issues pertaining to TVA's request to adopt TSTF-500 at Watts Bar Nuclear Plant, Units 1 and 2. TVA's November 29, 2018, application and June 7, 2019, supplement can be found in ADAMS at Accession Nos. ML18334A389 and ML19158A394, respectively.

Meeting Feedback

Meeting Dates and Times

08/19/19
9:00AM - 10:00AM



Meeting Location

Teleconference


Contact

Michael Wentzel
301-415-6459



Participation Level

Category 1

NRC Participants

Michael Wentzel, Office of Nuclear Reactor Regulation


External Participants

Tennessee Valley Authority


Docket Numbers - Facility Names

05000391 - Watts Bar 2
05000390 - Watts Bar 1


Related Documents

ML19227A093 - Draft Responses to Second Round Requests for Additional Information Related to Request to Adopt TSTF-500

ML19221B313 - 08/19/2019 Teleconference with Tennessee Valley Authority (TVA) Regarding Request to Adopt Technical Specifications Task Force (TSTF) Traveler TSTF-500, "DC Electrical Rewrite - Update to TSTF-360," at Watts Bar Nuclear Plant, Units 1 and 2



Comments

The public can participate in this teleconference. Please contact the meeting contact at least 2 hours prior to the meeting start time for the toll-free telephone conference number and passcode.