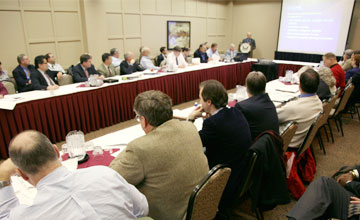 Public Meeting Schedule: Meeting Details
[
New Search
]
---
Purpose

To discuss Exelon's plans to submit a license amendment request to support the use of accident tolerant fuel lead test assemblies at Calvert Cliffs.

Meeting Feedback

Meeting Dates and Times

08/29/19
1:30PM - 2:30PM



Meeting Location

NRC One White Flint North
11555 Rockville Pike
O-9B4
Rockville MD


Contact

Michael Marshall
301-415-2871



Participation Level

Category 1

NRC Participants

Michael Marshall, Office of Nuclear Reactor Regulation


External Participants

Exelon Generation Co LLC


Docket Numbers - Facility Names

05000317 - Calvert Cliffs 1
05000318 - Calvert Cliffs 2


Related Documents

ML19220A061 - 08/29/2019 Meeting Between NRC and Exelon Generation Company, LLC (Exelon) Regarding the Licensee's Plans to Submit a License Amendment Request to Use Lead Test Assemblies at Calvert Cliffs Nuclear Power Plant (Calvert Cliffs)



Comments

The public can participate in this meeting via telephone. Please contact the meeting contact at least 2 hours prior to the meeting start time for the toll-free telephone conference number and passcode.