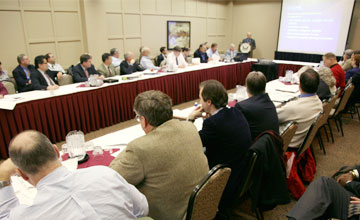 Public Meeting Schedule: Meeting Details
[
New Search
]
---
Purpose

To discuss the Draft Regulatory Basis for the Disposal of GTCC and Transuranic Waste. Members of the public are encouraged to ask questions and provide feedback. However, the NRC is not taking formal comments at this meeting. All comments must be submitted in writing in accordance with the instructions listed in the July 22, 2019, Federal Register notice at 84 FR 35037. The Draft Regulatory Basis is available through the NRC's Agencywide Documents Access and Management System at Accession No. ML19059A403.

Meeting Feedback

Meeting Dates and Times

08/27/19
6:00PM - 9:00PM



Meeting Location

Marriott Renaissance Austin Hotel
9721 Arboretum Boulevard
Sabine Room
Austin TX


Contact

Cardelia Maupin
301-415-4127

Ryan Whited
301-415-1154



Participation Level

Category 3

NRC Participants

Office of Nuclear Material Safety and Safeguards
Office of General Counsel


External Participants

Stakeholders


Docket Numbers - Facility Names

Related Documents

ML19212A508 - 08/27/2019 Public meeting to discuss the Draft Regulatory Basis for the Disposal of Greater-than-Class C (GTCC) and Transuranic Waste

ML19225D184 - Slides for GTCC Public Meetings.



Teleconference

Bridge Number: 8775212306
Passcode: 2154753

Comments

Stakeholders can participate in this meeting in person or by audio teleconference using the toll-free bridge number listed above. Bridgeline will be listen only during the NRC's presentation and an operator will be available to facilitate questions during the question and answer portion of the meeting. A separate Webinar on this topic will be held on August 22, 2019. Please see the NRC's public Website for additional information regarding this Webinar.