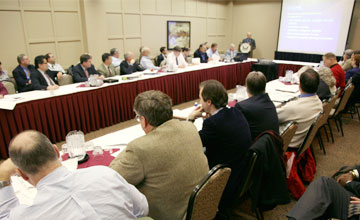 Public Meeting Schedule: Meeting Details
[
New Search
]
---
Purpose

To discuss the schedule and review planning for NEI 17-06 and Nuclear Procurement Issues Corporation (NUPIC).

Meeting Feedback

Meeting Dates and Times

08/21/19
8:00AM - 11:00AM



Meeting Location

Teleconference


Webinar

Webinar Link:https://global.gotomeeting.com/join/204103045
Webinar Meeting Number:N/A
Webinar Password:N/A


Contact

Joe Holonich
301-415-7297



Participation Level

Category 2

NRC Participants

Office of Nuclear Reactor Regulation


External Participants

Nuclear Energy Institute (NEI)


Docket Numbers - Facility Names

Related Documents

ML19189A067 - 08/21/2019 Meeting between the NRC staff and Nuclear Energy Institute.

ML19078A227 - Draft NUPIC Procedure for Observing the Accrediting Bodies.

ML19227A056 - 20190806 MP3 project plan.pdf

ML19227A057 - NEI 17-06 Rev A 20190814.pdf

ML19227A058 - NUPIC SIL Cert Committee Procedure-DRAFT Aug 2019.pdf



Teleconference

Bridge Number: 8886099306
Passcode: 10022

Comments

To get copies of any information available before the meeting, EMAIL the NRC contact.