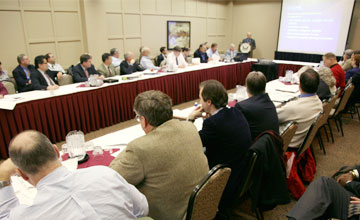 Public Meeting Schedule: Meeting Details
[
New Search
]
---
Purpose

Public teleconference meeting to discuss technical issues that need to be resolved associated with the NuScale Design Certification Application review in progress and to promote a common understanding of the technical issues associated with staff RAIs. A portion of the meeting may be closed to the public for proprietary discussion.

Meeting Feedback

Meeting Dates and Times

04/08/19
12:00PM - 4:00PM



Meeting Location

Teleconference


Contact

Gregory Cranston
301-415-0546



Participation Level

Category 1

NRC Participants

External Participants

Docket Numbers - Facility Names

05200048 - NUSCALE POWER REACTOR


Related Documents

ML19073A177 - 04/08/2019 NuScale Power Design Certification Application teleconference



Teleconference

Bridge Number: 8779501785
Passcode: 4312028

Comments

1 p.m. - 3 p.m. (Eastern): Topic: NuScale's supplemental response to request for additional information (RAI) 9415 (Refer to NuScale's initial response at ADAMS Accession No. ML18172A318, and October 17, 2018, public meeting summary on the topic at ML18304A258). Portion of the meeting may be closed for proprietary discussion.