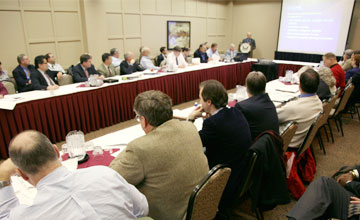 Public Meeting Schedule: Meeting Details
[
New Search
]
---
Purpose

The U.S. Nuclear Regulatory Commission (NRC) will host a virtual public meeting (webinar) to discuss its enforcement decisions regarding the Special Inspection conducted by the NRC to evaluate an August 3, 2018, incident involving a loaded spent fuel storage canister that was misaligned and became stuck on a metal flange while being lowered into a storage vault. The inspection findings are discussed in NRC Special Inspection Report 050 00206/2018-005, 050-00361/2018-005, 050-00362/2018-005, 072-00041/2018-001, dated December 19, 2018 (ADAMS Accession No. ML18341A172). The inspection findings were discussed during a public Predecisional Enforcement Conference with the licensee on January 24, 2019 (ADAMS Accession ML19031C168).

Meeting Feedback

Meeting Dates and Times

* Date/Time Change *

03/25/19
2:00PM - 5:00PM



Webinar

Webinar Link:https://attendee.gotowebinar.com/register/8157579529410290947
Webinar Meeting Number:None
Webinar Password:NA


Contact

L. Brookhart, NRC RIV
817-200-1549



Participation Level

Category 3

NRC Participants

L. Howell, Region IV
L. Brookhart, Region IV


External Participants

Docket Numbers - Facility Names

05000206 - San Onofre 1
05000361 - San Onofre 2
05000362 - San Onofre 3
07200041 - SONGS 1


Related Documents

ML19070A310 - 03/25/2019 NRC Virtual Public Meeting/Webinar for the San Onofre Nuclear Generating Station (SONGS) Spent Fuel Activities



Comments

During the webinar, NRC staff will also discuss preliminary observations and findings from recent inspections at SONGS to independently verify the adequacy of corrective actions taken by the licensee. Additional information can be found at: https://www.nrc.gov/reactors/operating/ops-experience/songs-spec-insp-activities-cask-loading-misalignment.html.