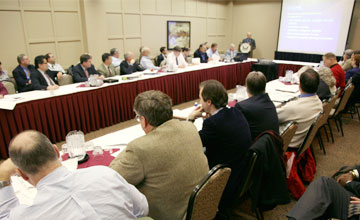 Public Meeting Schedule: Meeting Details
[
New Search
]
---
Purpose

The Board will hear argument regarding Exelon Generation Company, LLC related to Peach Bottom Atomic Power Station, Units 2 and 3

Meeting Feedback

Meeting Dates and Times

03/27/19
9:00AM - 5:00PM



Meeting Location

NRC Two White Flint North
11545 Rockville Pike
ASLBP Hearing Room
Rockville MD


Contact

Joseph McManus
301-415-5356

Taylor Mayhall
301-415-3027



Participation Level

Open

NRC Participants

Atomic Safety and Licensing Board Panel
NRC Staff


External Participants

Parties to the Proceeding


Docket Numbers - Facility Names

05000277 - Peach Bottom 2
05000278 - Peach Bottom 3


Related Documents

ML19059A404 - Order (Scheduling Oral Argument).

ML19059A446 - Order (Revising Time of Argument to Reflect Daylight Saving Time).



Comments

*Open to the public to observe only.