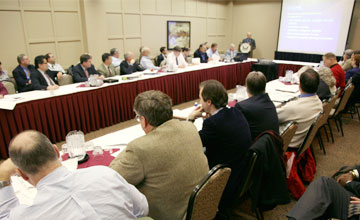 Public Meeting Schedule: Meeting Details
[
New Search
]
---
Purpose

The purpose of this meeting is for the NRC staff and representatives of Exelon Generation Company, LLC (Exelon) to discuss types of deterministic criteria from a risk-informed analysis of the effects of debris on long-term cooling that could be included in the Calvert Cliffs Nuclear Power Plant (Calvert Cliffs) Updated Final Safety Analysis Report.

Meeting Feedback

Meeting Dates and Times

03/20/19
10:00AM - 11:00AM



Meeting Location

Teleconference


Contact

Michael Marshall
301-415-2871



Participation Level

Category 1

NRC Participants

Michael Marshall, Office of Nuclear Reactor Regulation


External Participants

Exelon Generation Co LLC


Docket Numbers - Facility Names

05000317 - Calvert Cliffs 1
05000318 - Calvert Cliffs 2


Related Documents

ML19059A471 - 03/20/2019 Teleconference with Exelon Re: Proposed Updated Final Safety Analysis Report Associated with Amendment and Exemption Requests for Calvert Cliffs Nuclear Power Plant that Address the Effects of Debris on Post-Accident Long-Term Core Cooling



Comments

The public can participate in this meeting by teleconference. Please contact the meeting contact listed above at least 2 hours prior to the start of the meeting for the toll-free telephone conference number and passcode.