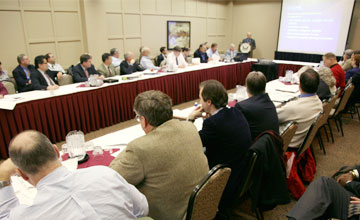 Public Meeting Schedule: Meeting Details
[
New Search
]
---
Purpose

The purpose of this meeting is for Exelon to describe a planned license amendment request involving allowed leak rate for main steam isolation valves for Nine Mile Point Nuclear Station, Unit 2.

Meeting Feedback

Meeting Dates and Times

03/21/19
9:00AM - 4:00PM



Meeting Location

NRC One White Flint North
11555 Rockville Pike
O-11B4
Rockville MD


Contact

Michael Marshall
301-415-2871



Participation Level

Category 1

NRC Participants

Michael L. Marshall, Office of Nuclear Reactor Regulation


External Participants

Exelon Generation Co LLC


Docket Numbers - Facility Names

05000410 - Nine Mile Point 2


Related Documents

ML19059A384 - 03/21/2019 Public Meeting with Exelon Generation Company, LLC (Exelon) Regarding Plans to Submit a License Amendment Request for Nine Mile Point Nuclear Station, Unit 2 (EPID L-2019-LRM-0003)



Comments

The public can participate in this meeting by telephone conference. Please contact the meeting contact listed above at least 2 hours prior to the start of the meeting for the toll-free telephone conference number and passcode.